MONTGOMERY COUNTY MEDICAL RESERVE CORPS
Volunteers Building Strong, Healthy, and Prepared Communities
Want to join the Shelter Unit Task Force?
Our MRC unit was one of the few units selected to receive extra funding from NACCHO (the National Association of County and City Health Officials). This funding will be used to create a Shelter Unit Task Force comprised of individuals fully equipped and trained in psychological first aid and medical first aid. The Shelter Unit Task Force will be made up of three teams: the Psychological First Aid Team, the Medical First Aid Team, and the Resource/Inventory Team. Members of the Shelter Unit Task Force will be available to deploy when emergency shelters in the county are opened. If you would like to be a part of the Shelter Unit Task Force, please e-mail cculver@mchd-tx.org with your interest.
---

NATIONAL PUBLIC HEALTH WEEK
In celebration of National Public Health Week (NPHW), Montgomery County Public Health District will be hosting a week of events April 6th – 9th. National Public Health Week is a time to bring together our community and highlight issues that are important for improving our community's health and wellness. The schedule of events for NPHW will be released soon.
---
---
STOP THE BLEED TRAININGS
Montgomery County Hospital District is hosting free Stop the Bleed trainings the first Thursday of each month. The purpose of Stop the Bleed is to teach civilians how to recognize and treat life threatening bleeding. The MRC will provide a free tourniquet for any MRC volunteer who completes the training. For those who attend the Stop the Bleed training,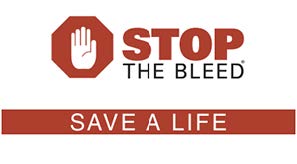 please e-mail cculver@mchd-tx.org with your training certificate. To register for a Stop the Bleed training, please visit https://www.mchd-tx.org/calendar-of-events/
---
UPCOMING EVENTS
February 18 & 19 – Psychological First Aid Training
February 24 – Be the Match Registration Drive
February 28 & 29 – Liberty County CASPER
March 2 – Leadership Team Meeting
March 11 – TB Presentation
March 21 – Youth Mental Health First Aid
March 28 – The Woodlands Township Preparedness Fair

---
---
Previous Newsletters