FAQ's
https://mcphd-tx.org/wp-content/uploads/Monkeypox-FAQs.pdf
Monkeypox Facts for People Who Are Sexually Active
https://uasi-jtti.s3.us-west-2.amazonaws.com/wp-content/uploads/sites/16/2022/07/22150616/MonkeyPox-sexually-active-InfoSheet-508.pdf
What to do if you've been exposed
Although the Centers for Disease Control and Prevention (CDC) currently considers monkeypox's risk to the general public as low, cases across the world are continuing to rise. If you believe you have been exposed to someone with monkeypox, please take the following precautions:
Notify your healthcare provider immediately for consultation.
Avoid gatherings, especially if they involve close, personal, skin-to-skin contact.
Think about the people you have had close, personal, or sexual contact within the last 21 days, including people you met through dating apps. You might be asked to share this information if you have received a monkeypox diagnosis, to help stop the spread.
Pictures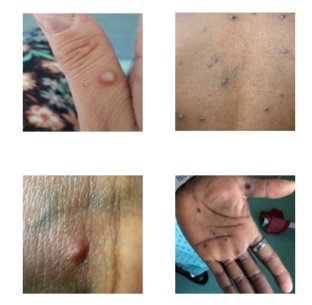 ***  If you have signs or symptoms or monkeypox or are currently under isolation for monkeypox, please do not just walk-in to your provider's office. Please call ahead to ask for guidance. ***
Vaccination
Monkeypox vaccinations are available to individuals who have been directly exposed to monkeypox and/or are at a high risk of contracting the monkeypox virus, as defined by the CDC. It is not recommended for everyone and will be provided to residents pending authorization from the local health department in partnership with a primary care provider. Public health will work with medical providers to offer vaccination to those with a high risk exposure. Household contacts and sexual partners are in the high risk group if connected to a confirmed case. Personnel who work in an occupational setting, including labs, where there is a risk of exposure, are approved to get the vaccine.
Vaccination is most effective if received within the first 4 days post-exposure. If given 5 to 14 days post-exposure, it may reduce the severity of the illness.
Clinicians
Case Definition                     https://www.cdc.gov/poxvirus/monkeypox/clinicians/case-definition.html
Healthcare Professionals https://www.cdc.gov/poxvirus/monkeypox/clinicians/index.html
MCPHD Provider Letter                                                                                                https://mcphd-tx.org/wp-content/uploads/7.27.22-MKPX-Letter-to-Providers_updated.pdf
Specimen Submission Guide For Houston Health Department          https://mcphd-tx.org/wp-content/uploads/HHD-Monkeypox-Specimen-Submission-Guidelines-8-4-22.pdf
Test Request Form For Houston Health Department                               https://mcphd-tx.org/wp-content/uploads/HHD-Monkeypox-Test-Request-Form-1.pdf
CDC TPOXX Guidance (Review guidance to determine patient eligibility)
DSHS TPOXX Ordering Guidance (Slides 31-35) (How to Request TPOXX treatment for Providers)
Informed Consent* (Required before initiation of treatment)
Patient Intake Form (Required after treatment initiation)
FDA Form 1572 (Required after treatment initiation)
MedWatch Adverse Event Report Form (Required after treatment initiation)
Clinical Considerations for Pain Management of Monkeypox https://www.cdc.gov/poxvirus/monkeypox/clinicians/pain-management.html
CDC Resources
https://www.cdc.gov/poxvirus/monkeypox/prevention.html
https://www.cdc.gov/poxvirus/monkeypox/symptoms.html
https://www.cdc.gov/poxvirus/monkeypox/transmission.html
https://www.cdc.gov/poxvirus/monkeypox/treatment.html
Demographics of cases
https://www.cdc.gov/poxvirus/monkeypox/response/2022/demographics.html
Outbreak and case data
https://www.cdc.gov/poxvirus/monkeypox/response/2022/index.html
MMWR on high contact and surface contamination in a household of person with mkpx
https://www.cdc.gov/mmwr/volumes/71/wr/mm7134e1.htm?s_cid=mm7134e1.htm_x
Disinfecting Home and Other Non-Healthcare Setting
https://www.cdc.gov/poxvirus/monkeypox/if-sick/home-disinfection.html
Schools, Early Care and Education Programs, and Other Settings Serving Children or Adolescents
https://www.cdc.gov/poxvirus/monkeypox/community/school-faq.html
Workplace and Business Toolkit
https://www.cdc.gov/poxvirus/monkeypox/resources/toolkits/workplaces-businesses.html