8/4/2021 
We can confirm hospitalizations for COVID-19 are nearing peak levels in Montgomery County. The vast majority of new cases and essentially all hospitalizations are in those who are unvaccinated.
We strongly encourage you to be vaccinated for COVID-19 if you have not done so already. Even if you contract COVID-19 after vaccination, the chances of severe illness, hospitalization and death are extremely low.
Only 49 percent of eligible Montgomery County residents are vaccinated. Need to find a vaccine? Click here: https://www.vaccines.gov/.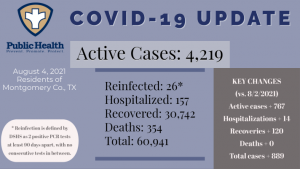 You can find information on reinfection here: https://www.dshs.state.tx.us/coronavirus/docs/DSHS-COVID19ReinfectionGuidance.pdf.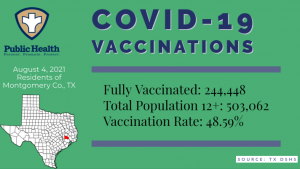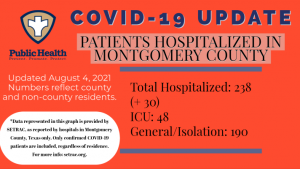 For questions regarding these graphics or the calculations, please see mcphd-tx.org and click on "COVID-19 FAQs."
Click here for more information:
https://coronavirus-response-moco.hub.arcgis.com