12/3/2021 UPDATE
MCPHD would like to continue encourage eligible residents to be vaccinated for COVID-19. Every new emerging variant emphasizes the need for vaccinations and booster shots for eligible populations. Need to find a vaccine or a vaccine booster shot? Click here for vaccine sites: https://www.vaccines.gov/.
Since the transition to the NEDSS database managed by the CDC, we will be standardizing our reporting to match Department of State Health Services (DSHS) reporting. All data definitions will now to consistent with DSHS. They can be found here: https://dshs.texas.gov/coronavirus/DataDefinitions.aspx.
Since our last report on 11/9/2021:                                                                                                                         
TOTAL cases of COVID-19 increased by 911 to 89,477. *Total cases include confirmed (PCR testing) and probable (antigen testing) cases.
ACTIVE cases of COVID-19 decreased by 889 to 863 (estimated per DSHS definitions). 
1,120 deaths in Montgomery County residents are related to COVID-19.
46 confirmed cases of COVID-19 are hospitalized in Montgomery County. SETRAC data for regional hospitalizations can be found here: https://bit.ly/3jwhdiV.
87,493 people have clinically recovered (estimated per DSHS definitions).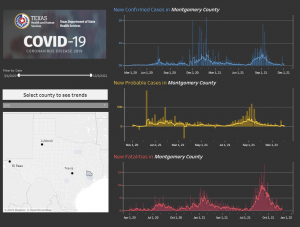 Click here for more information:
https://coronavirus-response-moco.hub.arcgis.com