The Medical Reserve Corps' mission is to organize and utilize medical and non-medical volunteers to strengthen Montgomery County's public health, emergency response and community resiliency.
At the origins of Montgomery County Public Health District, the county's Medical Reserve Corps (MRC) began in September 2010. Our unit serves the community by providing surge capacity in local disasters, including assistance in mass prophylaxis, vaccination clinics, and other major public health needs. The purpose of our unit is to supplement existing emergency response capabilities and public health infrastructure by working closely with several community partners, such as Montgomery County Office of Emergency Management, Citizens Emergency Response Teams (CERT), United Way, Red Cross, and other county resources in an effort to develop a coordinated response to disasters. Ultimately, to achieve our mission, and each of our objectives, we need willing and engaged volunteers.
Don't let our name fool you, our volunteers come from all backgrounds. We welcome medical volunteers, (nurses, doctors, medics, etc.) and non-medical volunteers (students, teachers, administrators, etc.). No matter your expertise, we have a spot for you within our unit. The only requirement is that you are able to pass a background check with no felonies, and are above the age of 15.
How to join
To join our proactive team of volunteers you just need to follow these
two easy steps:
Go to TexasDisasterVolunteerRegistry.org and click on "register now". When selecting an organization, you will need to scroll down to Montgomery County, expand the list, and choose Montgomery County MRC. This will notify the coordinator that you wish to join the unit.
After preregistering online, all new volunteers will need to attend orientation, regardless if you plan to be an active volunteer or a disaster only volunteer. During orientation, you will learn MRC basics including what types of events we respond to, what response notifications look like, and how to respond to events. We will also review our unit's non-emergency functions and how we make an impact in our community.
Next Steps
After joining the organization, you will be a part of an elite group that is the first to receive public health notifications, as well as any training or volunteer opportunities happening around our community. We offer all of our trainings for FREE as a thank you to our volunteers for their selfless service. In the past, trainings have included psychological first aid, basic emergency preparedness, mass fatality response, CPR/BLS, and many more!
What's our Impact?
The following image depicts the impact we had on our community in 2018. Last year, we served our home by participating in first aid stations, preparedness fairs, and local community events. We enriched ourselves through various trainings including Stop the Bleed, CPR, and hurricane preparedness. From services provided, to personal development, our unit continuously strived to be the best of its abilities and to make our county more engaged, safer, and better prepared.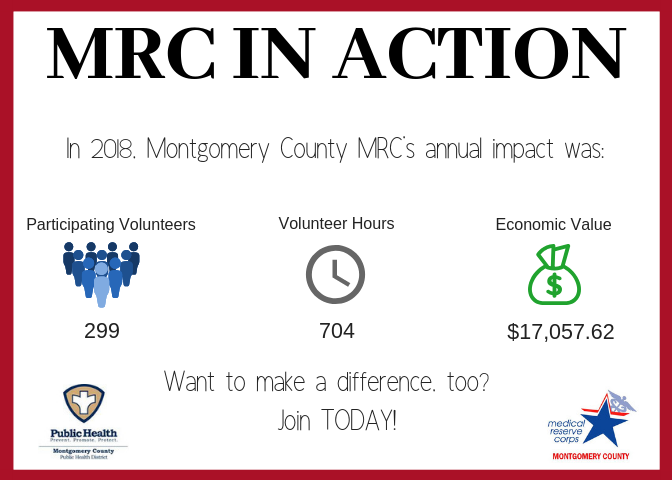 Volunteers in Service
We could write paragraphs on paragraphs of how our unit improves and better prepares the local community, but let these pictures do the speaking for us.