Information on COVID-19 Confirmed Cases
COVID-19: Community Risk and Quarantine Criteria
For more information including symptoms, prevention tips, and other resources visit DSHS website, or call your local Public Health Hotline at 936‐523‐5040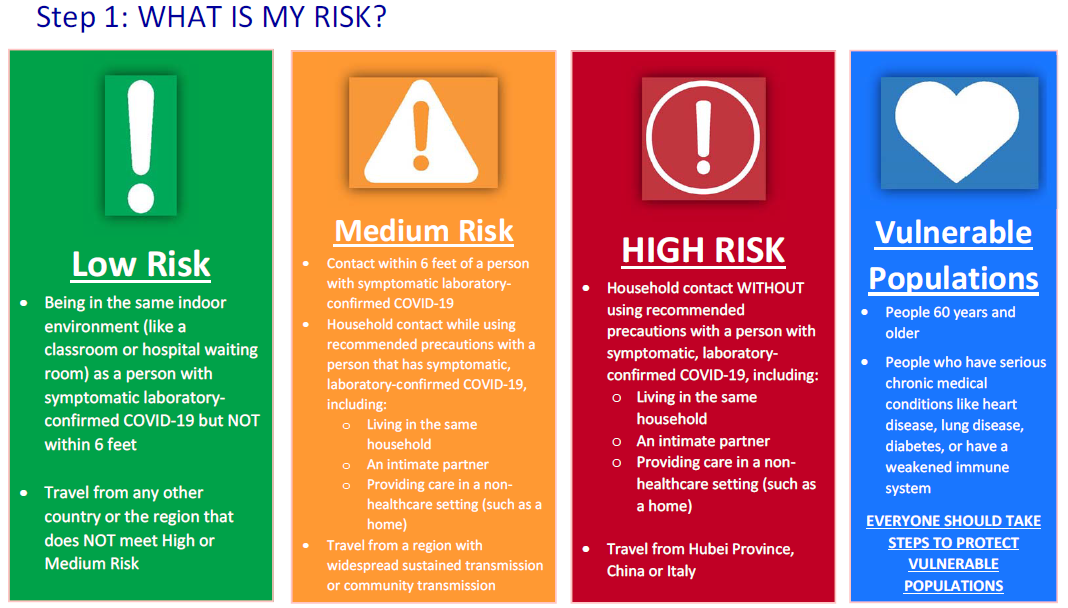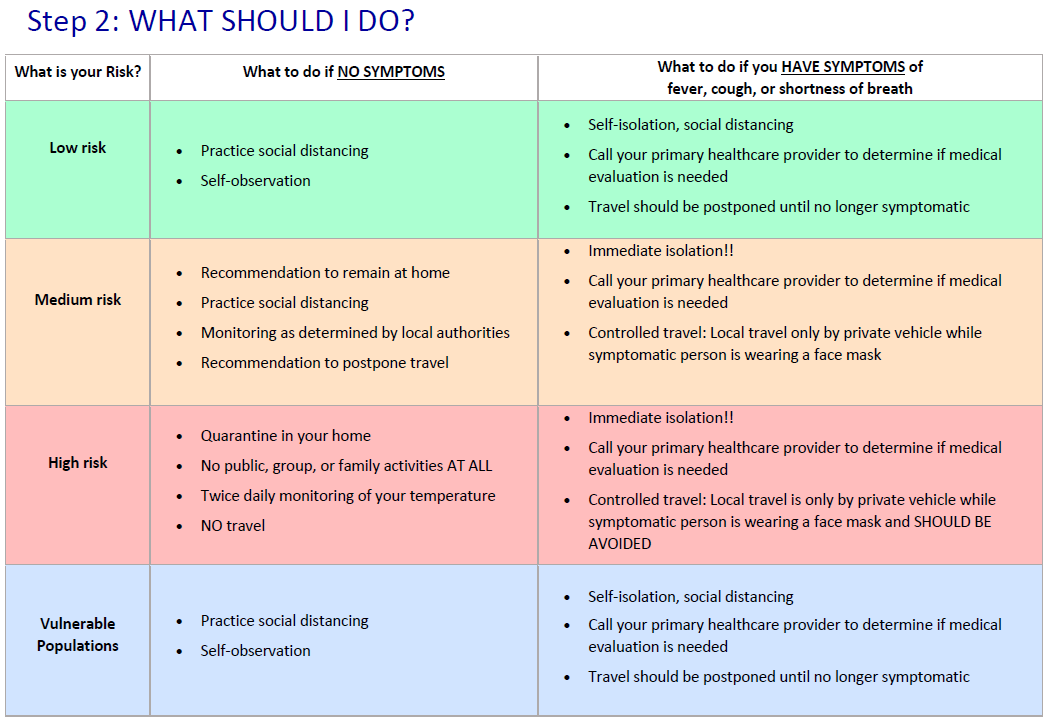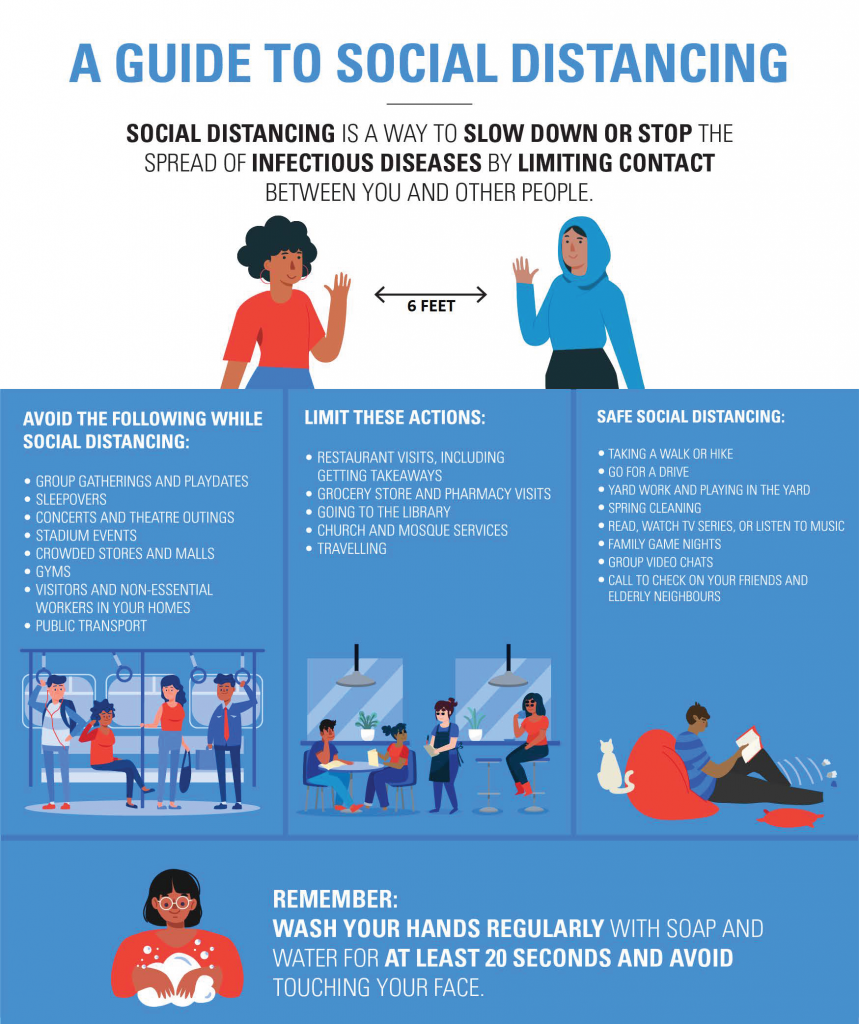 The MCPHD Clinic does not perform COVID-19 testing. Please call your primary care physician or local urgent care clinic for information on testing.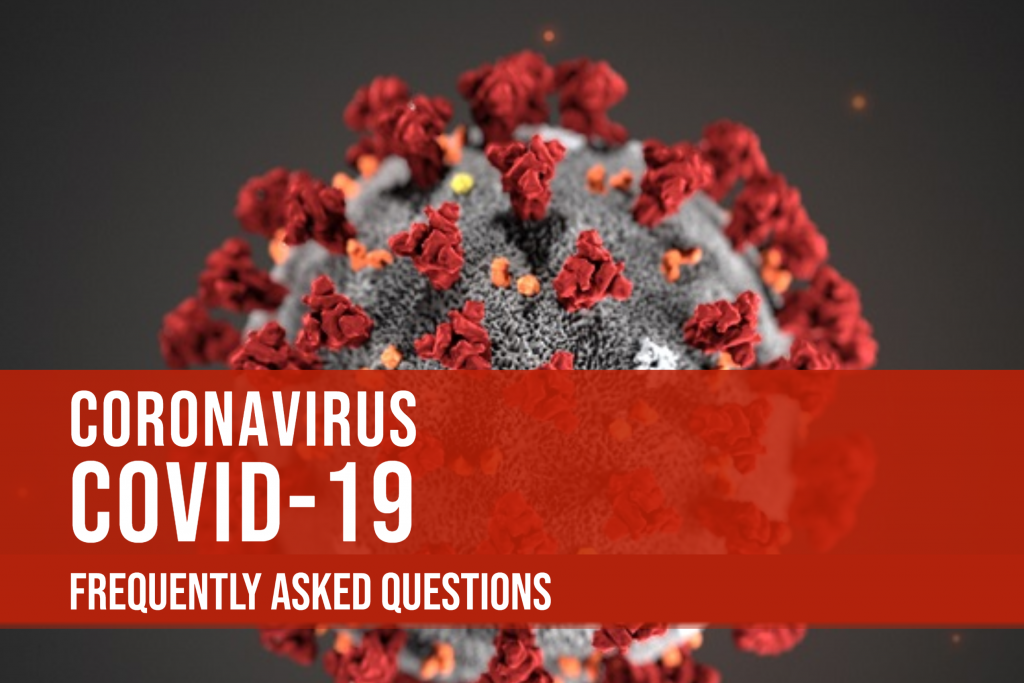 What is the difference between PCR testing and serology (antibody) testing?
PCR testing is used to detect a virus itself in the nose, throat or other areas of the respiratory tract to determine if there is an active infection. Serology testing (or antibody testing) looks for antibodies to determine if there has been an infection in the past. 
For a full explanation, download the PDF available at this link: https://mcphd-tx.org/wp-content/uploads/COVID19-PCRvsSerologyTesting.pdf.
When is someone considered "recovered" from COVID-19?
Persons with COVID-19 who have symptoms and were directed to care for themselves at home may discontinue isolation under the following conditions:
At least 3 days (72 hours) have passed since recovery defined as resolution of fever without the use of fever-reducing medications and
Improvement in respiratory symptoms (e.g., cough, shortness of breath); and,
At least 7 days have passed since symptoms first appeared.
Persons with laboratory-confirmed COVID-19 who have not had any symptoms may discontinue isolation when at least 7 days have passed since the date of their first positive COVID-19 diagnostic test and have had no subsequent illness provided they remain asymptomatic. For 3 days following discontinuation of isolation, these persons should continue to limit contact (stay 6 feet away from others) and limit potential of dispersal of respiratory secretions by wearing a covering for their nose and mouth whenever they are in settings where other persons are present. In community settings, this covering may be a barrier mask, such as a bandana, scarf, or cloth mask. The covering does not refer to a medical mask or respirator.
For more information: https://www.cdc.gov/coronavirus/2019-ncov/hcp/disposition-in-home-patients.html.
Why aren't you sharing more information regarding the patients?
MCPHD is bound by HIPAA regulations. HIPAA (Health Insurance Portability and Accountability Act) aims to protect a person's Protected Health Information (PHI). In layman's terms, we are bound by federal law to protect the identity of a person, even in the case of a public health emergency. Giving too much information (exact age, neighborhood, schools in which children attend, employer, etc.), leads to a person's identity being revealed which is a gross violation of their privacy. This is where the Public Health team of epidemiologists come into play. They are working with patients to obtain a list of close contacts (contact investigation) who may have contracted the virus. They get information on where they've been, where their kids attend school, etc. People who our team believes is at risk are contacted directly. If you are a member of the public and you have not been contacted by the Public Health team, we believe your risk is low. According to the CDC, COVID-19 is not airborne. The best way to protect yourself is to avoid public places. Practice social distancing. Stay home if you are sick. Wash your hands. Avoid touching your face. All these precautions are proven to prevent infection.  
---
Why don't you just test everyone?
As testing availability continues to improve, we are hopeful to be able to test anyone who would like to be tested. MCPHD and MCHD have applied for grants to be used to contract with existing test sites and offer free testing. This may be accomplished through a voucher system. We should have an update on this process in the final week of April 2020. These grants are still subject to approval.
---
How many people are being tested?
When we first began testing for COVID-19, all the tests for Montgomery County were being sent to one lab which is in the City of Houston. Since last Monday, March 9th, private labs began performing testing. In most cases, MCPHD is only notified of a conclusive result. Therefore, if we shared only internal numbers at this point, the amount would be inaccurate.
---
Where can I be tested for COVID-19?
If you are experiencing symptoms of COVID-19, please call ahead to your primary care physician or urgent care for further instructions. Your healthcare provider will screen you for symptoms and recommend you for testing if necessary. If you need help finding a testing site, please call the MCPHD Hotline at 936-523-5040.
---
When will there be enough tests for everyone who needs to be tested?
We are working with our healthcare partners to do everything in our power to obtain more testing materials for Montgomery County. Nationwide, the supply is having a hard time keeping up with demand.
---
I was tested last week. Why haven't I received my results?
By law, providers (hospitals, physicians, etc.) are only required to notify Public Health of POSITIVE results. As with any other medical test, you should receive your results (positive or negative) via your healthcare provider where the test was performed. MCPHD will only contact patients upon receiving POSITIVE results. Hospitals in Montgomery County all have patient portals where results are uploaded when they receive them. As a courtesy to the public, here is a list of the patient portals for the four largest hospital systems in Montgomery County where results can be obtained when they are available.
Memorial Hermann Hospital – The Woodlands
EverydayWell – http://www.memorialhermann.org/everydaywell/
HCA Houston Healthcare Conroe (formerly Conroe Regional Hospital)
MyHealthONE – https://hcahoustonhealthcare.com/myhealthone/
CHI St. Luke's The Woodlands
MyChart – https://mychart.sleh.com/prd/
This site is for access if seen at the following facilities:
Baylor St. Luke's Medical Center
Lakeside Hospital
Springwoods Village Hospital
Sugar Land Hospital
The Vintage Hospital
The Woodlands Hospital
Other regional CHI St. Luke's facilities – https://www.chistlukeshealth.org/patient-portal-login
Houston Methodist – The Woodlands
MyChart – https://mychart.houstonmethodist.org/mychart-prod/
---
Why hasn't the CDC confirmed the Montgomery County tests yet?
The CDC announced on Monday, March 17th that it would no longer confirm test results. The agency is confident in the accuracy of local testing.
---
Will Montgomery County have drive-thru testing facilities?
We are hopeful county residents will be able to access free testing as early as the last week of April 2020. MCPHD & MCHD are waiting for approval of grants needed to contract with testing sites, so more tests are available in the community, free-of-charge. We may be able to accomplish this through a voucher system. Many testing sites in Montgomery County are currently offering tests 100% covered by insurance with no co-pays. They are also working to provide low-cost tests to people who are uninsured. If you need help finding a testing site, call 936-523-5040.
---
For more information on Coronavirus (COVID-19) click here
The Texas Department of State Health Services novel coronavirus webpage is now live.
---
Our Mission:
Promoting a healthy, resilient community through health education, disease prevention, clinical services and emergency preparedness.
Our Vision:
An integrated team that serves, educates and promotes health and resiliency throughout Montgomery County.
Public Health District Programs
Clinical Services:
The Public Health Clinic provides services in the core public health areas of tuberculosis diagnosis and treatment; provision of childhood and adult immunizations. HIV Testing; screening and treatment of Chlamydia, Gonorrhea and Syphilis.
Epidemiology:
The epidemiology program provides a continuous, scalable response to disease notifications, and coordinates disease surveillance and investigations in Montgomery County. Epidemiology staff members provide ongoing health education to County medical professionals.
Medical Reserve Corps:
The Medical Reserve Corps unit utilizes medical and non-medical volunteers to strengthen Montgomery County's public health, emergency response and community resiliency. The MRC unit plays a vital role to supplement the community's existing emergency medical response capabilities and public health infrastructure.
Emergency Preparedness:
The preparedness program supports a coordinated, collaborative health and medical response to local disasters. Through planning, training and exercises, preparedness staff members lead the community in preventing, preparing for, and responding to public health emergencies.
Do you need health care assistance? Visit the Indigent Care – Health Care Assistance Program (HCAP) website for more information.
---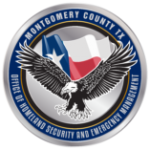 For Montgomery County Emergency Management Alerts & Updates click here
Source: cdc.gov, mctxoem.gov, mchd-tx.org, capetowntravel.com