Our Mission:
Promoting a healthy, resilient community through health education, disease prevention, clinical services and emergency preparedness.
Our Vision:
An integrated team that serves, educates and promotes health and resiliency throughout Montgomery County.
Public Health District Programs
Clinical Services:
The Public Health Clinic provides services in the core public health areas of tuberculosis diagnosis and treatment, provision of childhood and adult immunizations, HIV Testing, screening and treatment of Chlamydia, Gonorrhea and Syphilis.
Epidemiology:
The epidemiology program provides a continuous, scalable response to disease notifications, and coordinates disease surveillance and investigations in Montgomery County. Epidemiology staff members provide ongoing health education to County medical professionals.
Medical Reserve Corps:
The Medical Reserve Corps unit utilizes medical and non-medical volunteers to strengthen Montgomery County's public health, emergency response and community resiliency. The MRC unit plays a vital role to supplement the community's existing emergency medical response capabilities and public health infrastructure.
Emergency Preparedness:
The preparedness program supports a coordinated, collaborative health and medical response to local disasters. Through planning, training and exercises, preparedness staff members lead the community in preventing, preparing for, and responding to public health emergencies.
Do you need health care assistance? Visit the Indigent Care – Health Care Assistance Program (HCAP) website for more information.
---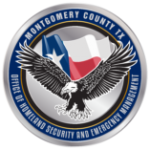 For Montgomery County Emergency Management Alerts & Updates click here